We pride ourselves at Denbigh GC on the high standard of training and coaching we offer to all golfers no matter their ability or experience. We provide a professional and informative service to you to get to the bottom of your swing and really help you understand what it is you need to do to improve on the course.
We have an indoor swing room fitted with the GC2 Launch Monitor. The lightweight and compact camera is perfect for displaying every conceivable stat you could want to know concerning your swing and what the ball is doing as it flies off into the distance. See the results instantly on the monitor itself or we can sync the device to your smartphone or tablet for you to review at your leisure. Click here to find out more.
We have the fitting carts and equipment for Titleist, Wilson and Nike clubs so you are sure to find the right equipment that best compliments your game.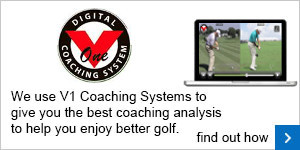 All our lessons utilise V1 Golf Software. The V1 golf software that I use is an incredibly useful tool to help me improve your golf game. We use V1 to record you hitting shots on the range, we can then analyse together your swing and get you hitting the ball the way you want.
I can email you a video with notes to help you grove your important swing changes.
I have also registered myself for the Golf Foundation Junior Passport Programme, a fantastic and exciting programme to encourage more juniors into the game of golf.
Our lesson prices are below and I'm sure you will agree they offer fantastic value for money when you take into account all the technology we have at our disposal to use alongside our expert knowledge concerning the mechanics of the golf swing and the best ways to improve you own swing.
30 minute lesson, including V1 golf software -

£20

Six lesson for the price of five -

£100

Seven hole playing lesson (course management) -

£35
If you want to book any type of lesson please click here.